Get a System Quote online
Answer a few quick questions, get an instant on-screen quote less than 5 min, and schedule a home visit.
Cool Factory Is On Call to Meet Your NOVA HVAC Needs
Gold Preventative
Residential Maintenance "Cool Club"
Flush Drain Lines

Check Float Switches

Clean Drain Pans

Check outside ambient temperatures

Check Head Pressure

Check Suction Pressure
Silver Preventative
Residential Maintenance "Cool Club"
Check Heat Strip Orientation 

Tighten Electrical Connections

Check Thermostat Operations

Check Saftey Controls

Run Through Cycle 

Check Zoning
Bronze Preventative
Residential Maintenance "Cool Club"
Inspect Contact Points

Inspect Accumulator

Inspect Driers

Inspect Reversing Valve

Inspect Crankcase Heater

Defrost Controls
Get a System Quote.
Answer a few quick questions, get an instant on-screen quote, and schedule a home visit.
HVAC Services
Cool Factory Inc, Provides Heating & Air Conditioning Repairs and Installations to Homes and Bussinesses Near You in
Virginia & Meryland.
Call for an A/C or Heating Repair Diagnostic Today!
Cooling
Central air conditioners circulate cool air through a system of supply and return ducts. Supply ducts and registers (i.e., openings in the walls, floors, or ceilings covered by grills) carry cooled air from the air conditioner to the home.
Purifier
Third-party testing done by the University of Colorado Department of Civil, Environmental and Architectural Engineering found that the Carrier/Bryant Infinity/Evolution air purifier inactivates 99% of coronavirus captured in the filter.
Heating
A central heating system provides warmth to the whole interior of a building (or portion of a building) from one point to multiple rooms. When combined with other systems in order to control the building climate, the whole system may be an HVAC system.
The Infinity 26 air conditioner with Greenspeed intelligence takes Carrier's most advanced technology to the next level. If it looks like next-gen technology, that's becasue it is. This energy-efficient AC unit offers enhanced cooling, extra energy efficiency and ultra-quiet comfort where it matters most — in your home.
Greenspeed intelligence is created by pairing adaptable-speed technology with the Infinity® System Control. The unique, variable-speed compressor of this unit, allows it to literally adapt its output to the needs of the home. With infinite adjustments between 25 and 100% capacity, it gives the home only the amount of cooling necessary.
This allows the system to operate longer at steadier, lower capacities, which ensures incredible energy efficiency and quiet operation with tighter temperature control than standard systems.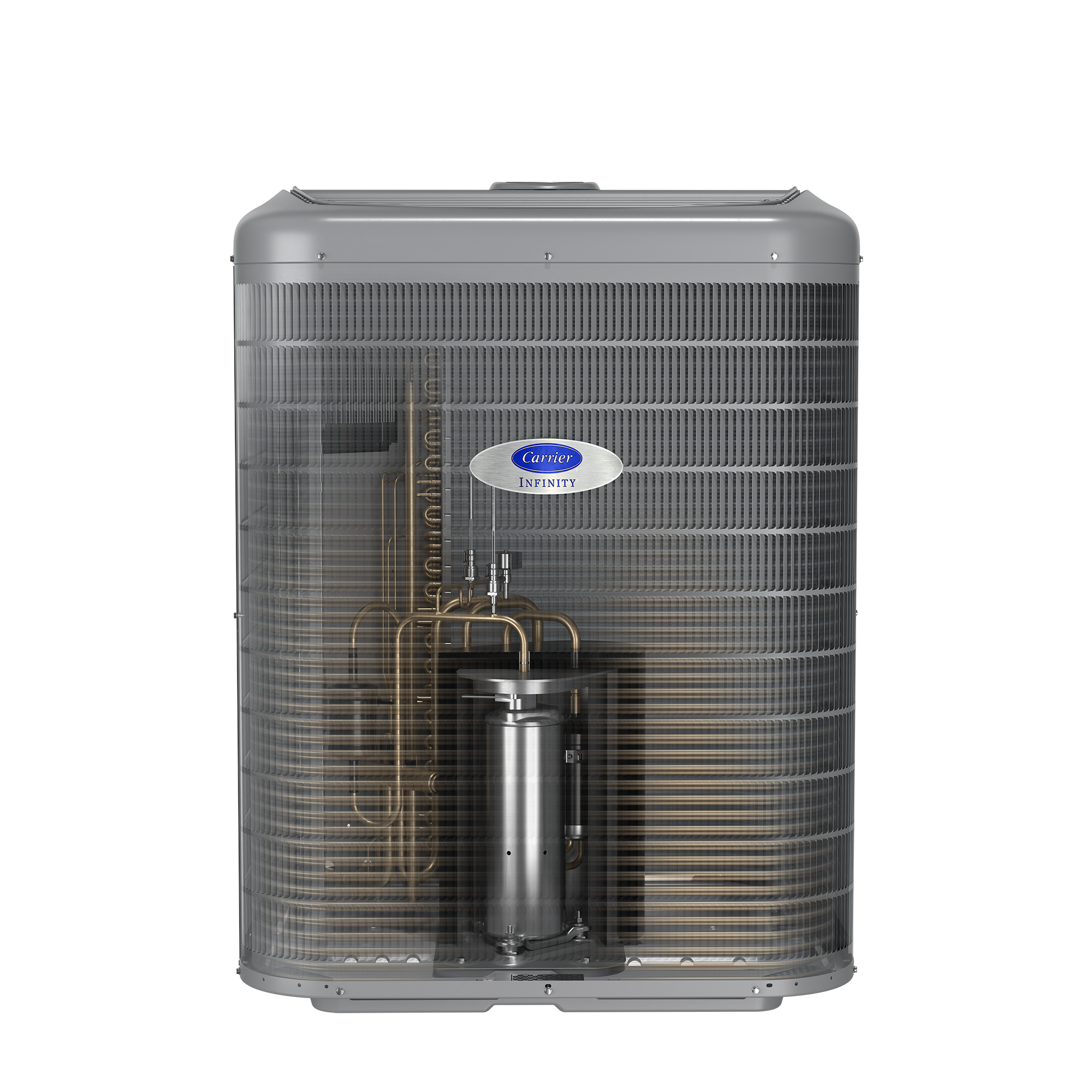 GOOD
Comfort Series
Carrier's Comfort Series are reliable and efficient, as well as budget friendly. They provide comfort by working in one speed that kicks on and shuts off within a couple of degrees of your thermostat setting. With this on-off approach, you can tell when it's coming on because of the system's rev-up followed by air starting to blow through the vents at full speed. Once this type of unit hits the proper temperature, it shuts down and then starts the cycle over again. 
BETTER
Performance Series
Carrier Performance Series offer mid-range efficiency and usually have two-speed fans. These units generally run mostly at the lower speed. The low speed fan makes far less noise than a high speed fan, but the system still cycles like the good units. Because it spends more time in low operation, it is more efficient to operate and it's able to keep the room temperature more even throughout the day by allowing a constant flow of air into each room.
BEST
Infinity Series
Like the name states, Carrier's Infinity Series is the best option in terms of comfort, efficiency, humidity control and noise levels. These units spend 90% of their time operating at very low speeds, meeting the exact requirement for the room. This makes these units the most efficient to operate, with the quietest noise levels, the most even room temperature, and the best humidity control.
John Smith :
"You asked that I report back to you concerning my satisfaction with the furnace and coil replacement at my home. I am very satisfied and all is working well. My home is comfortable. Your staff was courteous, clean and professional. No mess and no trouble. Thank you for a job well done. I will pass the word around.""
Jacob :
" had The best experience dealing with this Company. The service technician could recognize my AC unit problem immediately and fix it with a very reasonable price. I recommend them strongly."
H.SED
Cool  factory is simply the best company in DC area that I have ever worked with. I called them early in the morning for service and they were there within a couple hours and they fixed all my problems very quickly and very reasonably. I strongly recommend them."
Tatjana Rohrback
"The service was exceptional. The technician went out of his way to ensure we installed the best, safe water heater for our home. The installation was on time and professional; he hauled away the old unit and cleaned thoroughly at the end of the job. We plan to recommend this service to our friends and neighbors."
Litsa Mattfeld
"I could not have asked for a better experience. From beginning to end, the communication was perfect, the tech was on time and completed the job as requested. Very professional and personable. Outstanding and highly recommend."
Craig A. Leiding
 "Service was completed professionally and on time."
W. M. French
 "Appointment scheduling was flexible. Technician was proficient."
Norman
 "Excellent Service. The company called and scheduled an appointment as requested. On the day of the appointment, I received another call inquiring about if the tech could come early. This was GREAT!! The tech was friendly and professional. I'd definitely use them again."
John
Tech was on time, professional, and completed the job quickly."
Eric Johnston
 "The technician was quite cheerful on the day he came. He did a good job, and alerted me to the possibility of other problems relating to my dishwasher and the electrical service."
Ken C.
"Professional installation, Would do business again. Will likely go this route for a future project."
Steve
"Was very happy with the work done. Had a small leak and they came back in the same day to fix it. Couldn't be more pleased with the desire to do a great job."
Penn
"Great service. I was called earlier than the scheduled time to see if I wanted to push the appointment's meeting to an earlier time and I went with that option. The installer installed the new garbage disposal relatively quickly and took the time to make sure everything was in working order before leaving."
Mary
"Hassan did professional job. Hr was on time, friendly, and did good work!"
JW
"Great service. Arrived as schedule. Polite and helpful."
R.C. Pilot
"Very thorough job. Very capable technician. He explained the work that was needed and the charges were reasonable. I'll definitely call him again."
CARRIER AUTHORIZED DEALERS
Carrier Authorized Dealers work hard for this designation. And all their experience and work is for one purpose—to create comfortable homes and satisfied customers. So when you need a new system, or it's time to service or repair your current equipment, you can trust you're working with the best in the business.
Only the most loyal of Carrier Dealers have the opportunity to become a Carrier Factory Authorized Dealer. This loyalty translates into experience. By offering Carrier products almost exclusively, these dealers have become experts on these systems, offering you the best service available. You can also rest assured that all Carrier Factory Authorized Dealers meet strict guidelines for insurance requirements, liability coverage, EPA certifications, warranties, product training and installation and repair procedures. These truly are the Carrier Experts you can trust.
We service all brands and makes